T-38's to Flyover Northern California Hospitals this Saturday
Sat. May 9, 2020
Free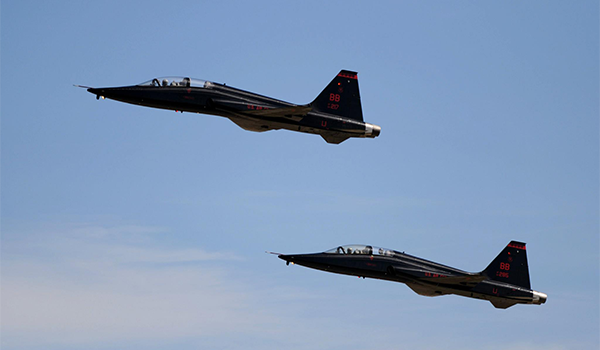 NORTHERN CALIFORNIA – Set your sights to the sky as the Recce Town T-38's and 9th Reconnaissance Wing salute those on the front lines in the fight against COVID-19 with a jaw-dropping flyover. Watch as these spectacular aircraft fly in formation overhead, passing above several key Northern California locations including hospitals in Vacaville, Roseville, Fairfield and more.
The aerial salute will be passing over the Solano County area, including over Kaiser Permanente Vacaville, NorthBay VacaValley Hospital, David Grant Medical Center at Travis AFB, and NorthBay Medical Center in Fairfield at approximately 12:40 – 12:45 pm on Saturday, May 9.
Be sure to practice proper social distancing as you step outside to witness this aerial act of appreciation for healthcare professionals, first responders and essential personnel working tirelessly to keep everyone safe and healthy during these trying times.
Air Force Salutes with Flyover Northern California Hospitals
Saturday, May 9, 2020
12 – 12:55pm
Taking off from Beale Air Force Base.
For more information, visit Facebook.com/BealeAirForceBase.
Related Events