Exploring Texas: Austin & San Antonio
The Full Article, Continued From Our July 2023 Issue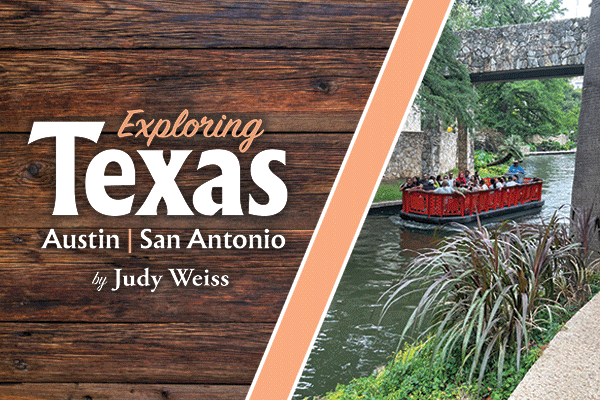 The new Joe Rogan comedy club, Comedy Mothership, in Austin, Texas, has been on our list of places to visit. We headed out at the beginning of June with tickets to see headliner Tom Papa, who was appearing in the "Fat Man" room. We really wanted to see Joe Rogan himself, so my travel expert, Kelli Wayne, set her Instagram notifications "on" for the Comedy Mothership should they post any new shows…and THEY DID! Tickets for Joe Rogan and Friends popped up about five days prior to our departure. We timed it perfectly and were able to score tickets that sold out in minutes. Tickets for the club are VIP or general admission, but either way, be sure to get in line early for the best seats. We had general admission for Tom Papa and were seated right above the stage, which was better than our first show, where we had VIP. On both nights, the comedy was outstanding!
We stayed one block from the comedy club at the Westin Austin Downtown on 5th Street. They have a very nice rooftop pool and bar where you can take in the city view. At night, 6th Street, also known as "Dirty Sixth," closes to through traffic, so you can walk freely and enjoy the nightlife surrounding the comedy club.
To see all that Austin has to offer, we booked a sightseeing tour with AO Tours. Their convertible Mercedes Sprinters are a great way to see the city and explore at your leisure. Our tour guide, Doug, was funny, informative and gave us the inside scoop on sites and places to eat. Austin is huge, and there is so much to see. Other parts of the city are so much nicer than "Dirty Sixth."
Here are some of our highlights:
The Bat Bridge (So. Congress) – Where thousands of bats blanket the sky at dusk.
Mount Bonnell – Sweeping city views and an area where mansions sit on top of the hills overlooking Austin's waterways.
Barton Springs – A large natural spring oasis with a swimming area and picnicking.
Texas State Capitol – A historical landmark.
Texas State Cemetery – Just blocks east of the State Capitol and the final resting place of Texas legends.
Lamberts BBQ – An upscale barbecue restaurant located in a refurbished general store with an upstairs bar and live music. Make a reservation weeks in advance to secure a spot. I highly recommend the Crispy Wild Boar Ribs appetizer and sharing the Nolan Ryan Goodstock Short Rib with spicy cilantro and scallion slaw, fennel and caper relish with a side of baked mac and cheese.
Moonshine Patio Bar & Grill – Located in the historic "Waterloo" compound serving an innovative take on American comfort food.
Anthem – An eclectic, Asian/Hawaiian-style restaurant on Rainey Street serving some of the most mouthwatering bites and beverages. The standout Hapa Chicken Sandwich should not be missed: a Japanese-style fried chicken thigh on a brioche bun with sesame slaw, spicy cherry pepper, cucumber sunomono relish and a Chinese grain mustard aioli …delicious! For our side, we chose sweet potato fries (the best I've ever had). This is a not-to-be-missed reasonably priced restaurant. The tropical cocktails are innovative, delicious and strong.
South Congress – A neighborhood that is a breath of fresh air from the downtown vibe, with boutiques, food and fun that should not be missed. It's known for the famous Amy's Ice Creams (which we thought was just okay) and Allen's Boots, an emporium of cowboy boots. Don't miss Guero's Oak Garden and Taco Bar – live music amongst majestic oaks.
San Antonio, location of the Alamo – We rented a car and drove about an hour and a half to visit this significant place in Texas and U.S. history. Right next to it is the River Walk, the heart of San Antonio and a number one Texas attraction. We took a ride down the river on the Go Rio River Cruise, which is about a 30- to 40-minute tour of the shops and eateries down the river.
Texas Highways – Lastly, a trip to Texas MUST include Buc-ee's Texas Gas Station. It's an "everything is bigger in Texas" style gas station with what seems to be endless gas pumps and ice machines, plus an emporium of food, clothing, sporting goods and almost anything you could imagine.