Ride the Rails for Relay on Niles Canyon Railway
Sat. Apr 21, 2018
$15 - $25
Event Navigation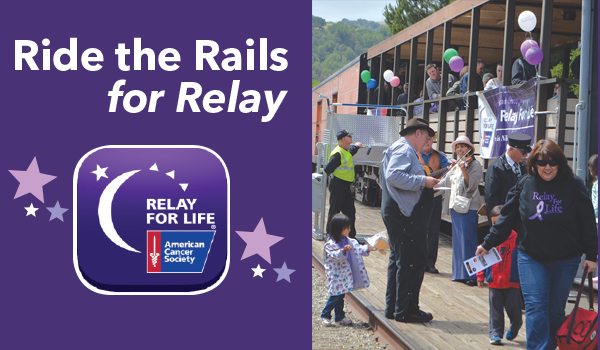 SUNOL – Support a great cause in the fight against cancer with an exciting ride on the rails! The train and all-volunteer crew are once again graciously being donated by Niles Canyon Railway. All proceeds benefit the American Cancer Society. Round trip train excursions through historic Niles Canyon will depart from Sunol Depot only. Bring a picnic to eat on the train or in the park. Enjoy live entertainment, free wine tasting and a variety of snacks and beverages available for purchase on board.
Ride the Rails for Relay on Niles Canyon Railway
Saturday, April 21, 2018
Sunol Depot, Sunol
Departures: 10:30am • 12:30pm • 2:30pm
Tickets: $25/Adult • $15/Child 2-12 (Children under 2 ride free)
To reserve or for more information, call 510-996-8420 or email station-agent@NCRY.org
Tickets will also be available at the ticket window that day.
Related Events