Nut Tree Centennial at the Vacaville Museum
Thu. Mar 25, 2021

-

Sun. Jan 9, 2022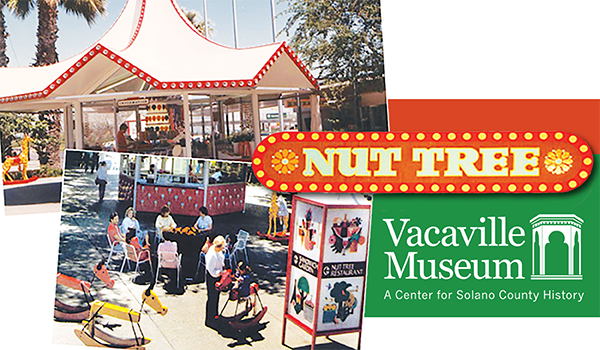 VACAVILLE – Guess who's turning 100 this year? Solano's beloved original Nut Tree! In July 1921, the Power family started a roadside fruit stand that would become California's favorite road stop and put Solano County on the map for travelers all over the country.
The Vacaville Museum is leading the community celebration with an exhibit and events that will bring out the kid in anyone. The Museum's Nut Tree Centennial exhibit will feature all things original "Nut Tree", including displays of the restaurant, retail shops and post office. The colorful art of Nut Tree graphic artists, led by Don Birrell will also be displayed throughout the event. Seasonal events will recreate the year-round Nut Tree experience with plans to bring back the Pumpkin Patch and other Nut Tree originals. Dates for those events will be released soon.
If you're interested in helping by donating or loaning Nut Tree memorabilia, or by sponsoring a Nut Tree Centennial event, please contact the Vacaville Museum at 707-447-4513.
Nut Tree Centennial at the Vacaville Museum
Through January 9, 2022
For more information and the current gallery hours, visit VacavilleMuseum.org.
Related Events