LumiNight Lantern Festival
Fri. Nov 29, 2019

-

Sun. Feb 2, 2020

$18 – $28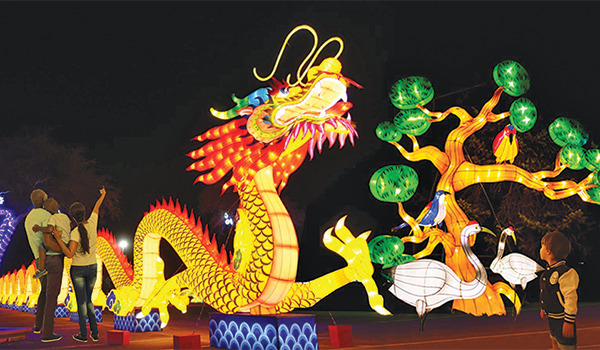 PLEASANTON – Light up your night with a trip for the whole family to the LumiNight Lantern Festival! Embark on a walking safari through scenes inspired by the magical world of nature and brought to life by breathtaking lantern sculptures created by Chinese artisans.
This one-of-a-kind presentation celebrates the planet's most awe-inspiring wonders. Step into a Forest of a Million Lights, walk with the dinosaurs, discover Chinese zodiac animals, immerse yourself in the Great Barrier Reef, learn the story of Noah's Ark, and get up close and personal with animals both extinct and endangered.
You'll be guided on a dazzling journey by hundreds of internally lit creatures accompanied by an educational and interactive augmented reality mobile app. The app is free when you purchase your admission tickets in advance at LumiNightLanterns.com or $4 at the door.
This spectacular display spans eight acres and is the perfect way to honor wildlife and shine a light on what must be done to protect Earth's greatest treasures.
LumiNight™ Lantern Festival: One World. A Million Lights.
November 29, 2019 – February 2, 2020
Alameda County Fairgrounds, Pleasanton
Tickets: $18-28  (Free admission for children under age 4).
For tickets and more information, visit luminightlanterns.com
---
Discount tickets for this event are available at Goldstar.com.
Disclosure: We love to share all kinds of local events on our site at no cost to our readers. In order to provide this service on an ongoing basis, we want to let you know that we may receive a commission, at no additional cost to you, if you make a purchase via some of the links on this page.
Related Events