Trick … or Treat?
No tricking going on here! Discover treats from local eateries topped with hot Cheetos, children's cereal, candy bars and chicken 'n waffles…and the kids think they have all the fun?
High Voltage Donuts
VACAVILLE – Put that diet on hold, there's a new donut shop in town you'll want to try! High Voltage Donuts in downtown Vacaville definitely satisfies the sweet tooth and their creations are the definition of eye candy.
After ogling over their Instagram photos for weeks, our team placed an online order for a dozen of their various donut offerings for a recent team meeting. We tried the "Baecon" (a vanilla donut with maple glaze and a strip of bacon) which immediately won us over. Our other favorites are the "Outdoorsy" (a chocolate donut with vanilla glaze and s'mores essentials), the "Galaxy" (a vanilla donut with a shimmery chocolate and vanilla glaze) and the "Toasted" (a vanilla donut glazed in maple boasting a cinnamon toast crumble). We liked all of our choices and also the fact that they were baked and not fried (helping us think we were somewhat still on a diet). The baking gives High Voltage's donuts a moist, light and airy cupcake type of texture, which we all agreed was delicious.
Other High Voltage selections such as "Cookies & Dreamz" (with Oreo crumbles), "That's My Circus" (with a Nutella glaze and Mother's cookie crumbles), "Heat it Up" (with hot Cheeto's crumbles and a jalapeño) and others with Fruity Pebbles, M&M's and popcorn toppings are sure to bring out the inner child in you. Be sure to grab a Kingston Coffee Company cold brew while you're there to complement your donut choice. Gluten-free donuts made in a gluten-free kitchen are also available.
High Voltage donuts range in price from $2.50 each to $4.50 for the gluten-free options. They also accept custom orders and have pricing for wedding & catering inquiries. Visit their fun, modern shop at 313 Main Street in Downtown Vacaville.
To pre-order, visit highvoltagedonuts.com or call 707-628-6133.
---
Solano Baking Company
DIXON – Grab a cup of coffee with an old-fashioned donut topped with candy bar crumbles or take home a sweet loaf of bread artfully wrapped and tied from Solano Baking Company.
Their playful twist to their old-fashioned donut selection includes choices of toffee or Heath Bar crumbles, M & M's and tempting flavors such as red velvet, chocolate and berry.
If you like muffins, you'll want to try the Monkey Muffin — a super moist banana nut muffin with chocolate chips. Other delicious must tries are the Razzleberry and Peach Cobbler Muffins. They also bake nut loaves in their muffin flavors. The loaves are wrapped and tied for home, office or as a gift.
Donuts start at $1.10 each, breakfast at $3 and lunch dishes start at $5. Solano Baking Co. is located at 1160 Pitt School Rd. Ste. B, Dixon. You can call them at 707-678-0950 for orders or catering information. Visit them online at solanobaking.com.   
---
Famous Creations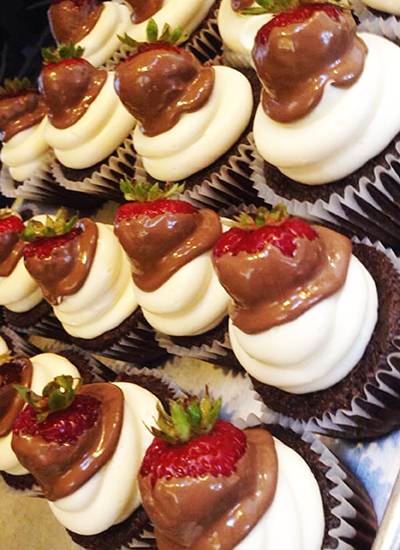 What started as a home-based bakery in 2013 with only four cupcake flavors, quickly blossomed into a full-service wedding coordination, event catering company and bakery with over 50 cupcake flavors on their menu.
The cupcake flavors are uniquely creative, offering 3 levels of cupcakes: Signature, Gourmet and Specialty. With mouth-watering flavors such as Chocolate Salted Caramel, Cherry Lime-Aid, Chicken & Waffles and Chocolate Chip Cookie Dough, they can be topped with a selection of some favorite candy bar flavors.
They even have decadent liquor infused cupcake treats for adults such as Margarita, Fireball, Hennessy and Vodka.
Cupcake prices are $2-4. Famous Creations is located at 837 Texas St. in Downtown Fairfield. You can reach them by phone at 707-419-5733 or visit them online at famouscreationsca.com.
---
Michelle Trippi writes "Tastes of Your Town", a monthly feature in the print edition of Your Town Monthly. This article was originally published in the October 2018 Solano and Yolo County print editions.