Big Bay Ray – Advocates for the Animals
During the LNU Lighting Complex Fire last summer, two alpacas unfortunately suffered burns.  They were hospitalized at UC Davis Veterinary Hospital's Large Animal Clinic for four months, but are thankfully finally going home. Apple Jack and Jasper became household names at the hospital, being seen by nearly every fourth-year veterinary student who had a large animal rotation. The students and technicians even decorated their barn stall for the holidays.
Their owner praised the team's "phenomenal job" in caring for the two and was happy to see that the team "stuck with them and encouraged us they would make it."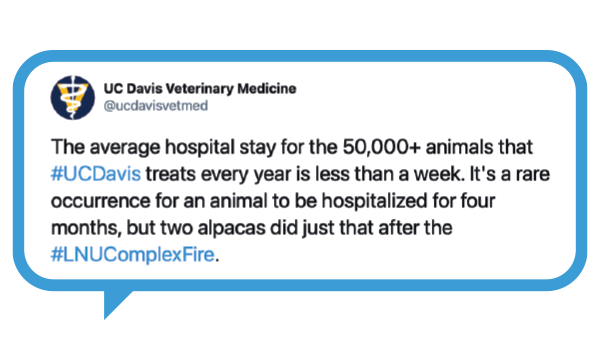 Join Big Bay Ray in helping the UC Davis hospital care for animals like Apple Jack and Jasper. Big Bay Ray is an IRS-approved 501(c)(3) non-profit organization that donates 100% of its proceeds to animal rescue groups, with the goal of rehabilitation and adoption. The organization strives to further this mission with the sale of its unique shopping and wine bags. Created from donated and recycled feed bags, these items are a functional and creative way to support a very worthy cause. When you donate to Big Bay Ray or purchase their shopping bags and wine totes, you are not only supporting the UC Davis School of Medicine Veterinary Hospital but also the continued fundraising efforts for the animals that require extensive stays there.
Merchants wanting to offer these life-saving bags at their stores are welcome. Contact Big Bay Ray at bigbayray16@gmail.com or call 925.523.3133.