Thunder Over the Bay: Travis Air Show
Sat. Mar 30, 2019

-

Sun. Mar 31, 2019

Free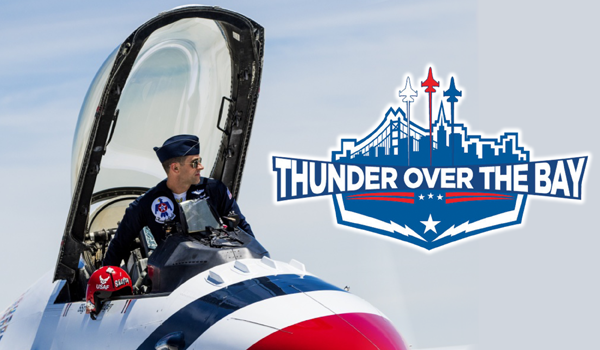 FAIRFIELD – Headlined by the United States Air Force Thunderbirds, this two-day Travis Air Show will showcase the years of training,  experience, and the focus on excellence that embodies what the Air Force is all about.
This year's event theme is Honoring Hometown Heroes and will recognize admirable individuals and groups, both military and civilian, from throughout the Northern California community. In addition to the headliner event, you can enjoy a variety of other performers scheduled to include the U.S. Army Golden Knights parachute team as well as the F-22 Raptor and C-17 Globemaster III demonstration teams. There will be static displays from flying units from around the nation, Travis' own aircraft and displays from both CalFire and the California Highway Patrol. There will also be a fun zone for children 10 and under.
While the 2019 air show performers and static displays are still being finalized, similar acts from past years are likely to participate and may include performances by U.S. Air Force Academy Wings of Blue parachute team, Dan Buchanan, Bob Carlton, Jacquie Warda and Mark Kirsch. Static aircraft on display during the 2017 air show included T-38 Talon, T-41C Mescalero, A-10 Thunderbolt II, B-52 Stratofortress, F-16 Fighting Falcon, KC-135 Stratotanker, C-12 Huron, Cessna C206, Cessna C-310B, Piper Archer III, C-182 Skyline, MH-60R Seahawk, California Highway Patrol helicopters and the newest F-35 Lightning II.
Thunder Over the Bay at Travis Air Force Base
Saturday – Sunday, March 30 – 31, 2019
Gates open at 9am
Performances between 10am – 4:30pm
Admission is FREE
Travis Air Force Base, Fairfield
For more information, visit Travis.af.mil.
Related Events