Solano County's Bounty of the County: Stronger Together
Tue. Sep 1, 2020

-

Wed. Sep 30, 2020

Free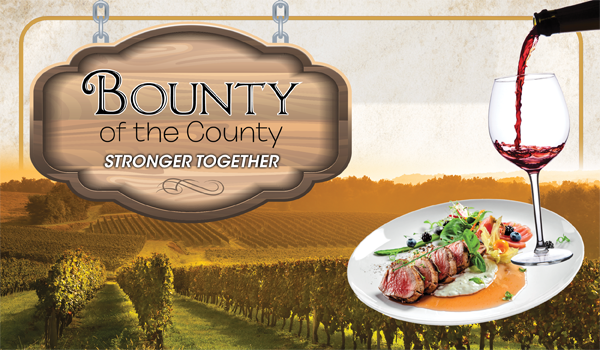 SOLANO COUNTY – The fires that have ripped through Solano County have damaged many of the county's small family farms and wineries. Some farmers have lost everything, including their homes, while others have not been able to access their property to determine the extent of the damage.
With the farming community in shock and grieving, Sustainable Solano has decided to shift the focus of the original Bounty of the County event to that of a fundraiser. The Bounty of the County: Stronger Together live demonstration will kick off its first night on Tuesday, September 1 and a link will be available on their website should you wish to donate to help raise funds for the farmers and growers who've lost property, crops and animals to these ravaging wildfires. All donations received through Sustainable Solano through the end of September will go to this cause.
The Bounty of the County: Stronger Together event will highlight trios of Solano farmers, chefs and winemakers to build public awareness of Solano agriculture and food. Each Tuesday, the trio will be part of a live, online presentation that will offer a cooking demonstration and details on the farms, restaurants and wineries featured. Attendees who register for the free events on EventBrite will be able to make an optional donation for the Bounty of the County Fire Fund. The event culminates in each restaurant offering a special meal for purchase that includes the farmer's featured Bounty of the County products.
Donate via PayPal online, or make checks out to "Sustainable Solano" and mail to:
Sustainable Solano
P.O. Box 1215
Benicia, CA 94510
(While donations by check will go to the fund in their entirety, PayPal does charge a minimal fee).
Developed in collaboration with the Solano County Fair Association, presented in partnership with the Solano Small Business Development Center.
Solano County's "Bounty of the County"
Every Tuesday Throughout September 2020
Virtual attendance is FREE, however, donations are greatly appreciated.
For more information and to make a donation, visit SustainableSolano.org.
Related Events