Live Entertainment at Walnut Creek Downtown Stages
Fri. Apr 23, 2021

-

Fri. Dec 31, 2021

Free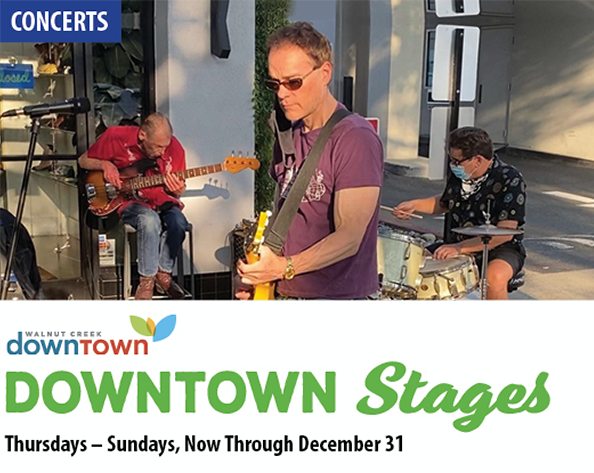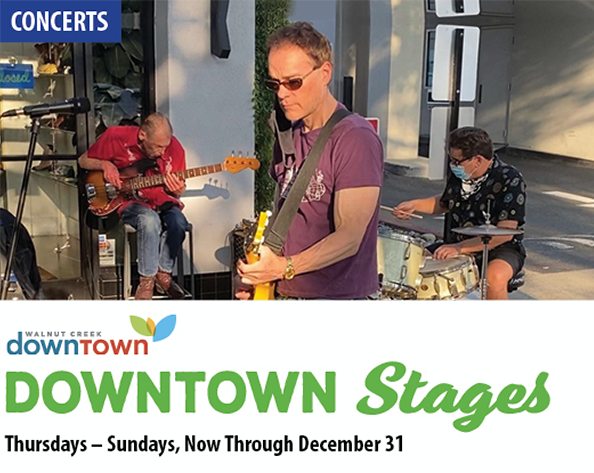 WALNUT CREEK – Discover an exciting pop-up entertainment series where local musicians, dancers, poets, tap dancers and other performers present their talents in the heart of Walnut Creek. Whether you're a resident or new to town, Walnut Creek Downtown (WCD) invites you to experience the soothing sounds of cool jazz, acoustic guitar, horns, violin and maybe a harmonica or two. Spread across four "stages" throughout the downtown area, there's sure to be something for everyone to enjoy.
"As a small business owner, I am excited about the Downtown Stages project because it will be just one more thing that makes Walnut Creek a fun place to visit. Having live performances going on around town while people are strolling and shopping will make for an even more unique and enjoyable experience," says Kristin Lincoln, owner of Love + Chocolate in downtown Walnut Creek. WCD understands that many in our community are facing challenging times and hope that the Downtown Stages will add a touch of good cheer to your day as you stroll and enjoy the beautiful downtown area.
As you stroll through downtown Walnut Creek, be on the lookout for art by Valley Art Gallery artists on display in downtown storefront windows. For more than 70 years, Valley Art Gallery has been one of the premier local art galleries in the East Bay. All art on display is available for sale or to rent. For additional details, please contact Valley Art Gallery.
This collaborative effort between Walnut Creek Downtown and Valley Art Gallery is designed to add visual interest and beauty to the downtown experience. WCD has long been committed to beautifying the area by supporting arts in the community. Live entertainment combined with visual artistry will promote good cheer as visitors shop and dine in Walnut Creek's beautiful downtown.
Members of TAPS of Walnut Creek (Teen and Parent Service Society) assisted Walnut Creek Downtown with the new Walnut Creek Together Stencil Art project. The volunteers painted the Walnut Creek Together logo on downtown sidewalks to add encouragement and color to the dining and retail district. The vibrant logos can be found on N. Main and Locust Streets between Giammona Way and Botelho Drive. The stencils used for this project were provided by Board & Brush Creative Studio. Downtown patrons are encouraged to snap a photo in front of the stencil art and use #WalnutCreekTogether when posting on social media.
Live Entertainment at Walnut Creek Downtown Stages
Thursdays – Sundays, Now Through December 31, 2021
Cypress Mini Plaza, Water Light Plaza, Plaza Escuela and Civic Plaza, Walnut Creek
FREE
For more information, visit WalnutCreekDowntown.com.
---
Are you a performer? Find out how you can perform at one of the Downtown Stages at WalnutCreekDowntown.com.
Related Events