Help Stop Parkinson's in its Tracks at Danville d'Elegance
Sat. Sep 21, 2019

-

Sun. Sep 22, 2019

Free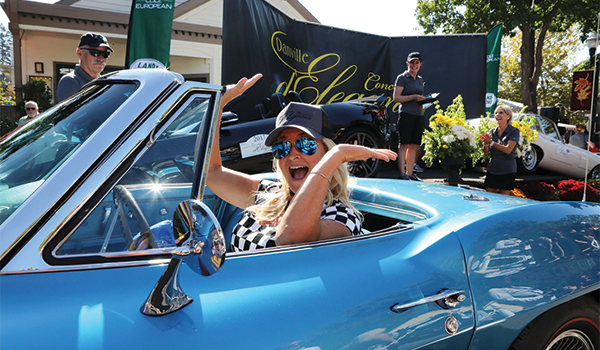 DANVILLE – Take to the streets at Danville d'Elegance to help "Stop Parkinson's in its Tracks." Since 2004, the Danville d'Elegance Foundation has raised more than $6 million for Parkinson's research and patient care. You can support this mission and those with Parkinson's by participating in a weekend of premier events.
The Tour d'Elegance will take place on Saturday, September 21. This round-trip rally-style cruise begins in Walnut Creek and winds its way through some of the most spectacular scenery and winding roads in Northern California. You'll make a pit stop at an exclusive winery where you'll have a catered gourmet lunch. A donation of $295 per vehicle is required with registration.
The annual Gala Dinner d'Elegance will be held Saturday evening at the Blackhawk Museum. This event is the crown jewel of the fundraising weekend and features an exciting musical performance by Dave Martin's House Party Band. Your donation of $325 includes cocktails, fine dining and an auction. Registration is required for this very special dinner. Pre-registering online at Danville-dElegance.org is recommended for both the Gala Dinner and Tour d'Elegance.
On Sunday, September 22, the whole family will enjoy seeing classic, sports performance and exotic automobiles, as well as wooden yachts and cruisers, vintage trailers and motorcycles displayed on Hartz Avenue. In addition to the world-class cars, there will be raffles, food and wine tasting. Admission is free; however, donations are encouraged.
Funds from all events benefit The Parkinson's Institute in Mountain View and the Michael J. Fox Foundation.
The 15th Annual Danville d'Elegance
Saturday & Sunday, September 21 & 22, 2019
Tour d'Elegance SOLD OUT
Saturday, September 21, 2019
Departure: 8:30am
Cole European, Walnut Creek
$295 donation per vehicle
Gala Dinner d'Elegance
Saturday, September 21, 2019
Doors/Cocktails: 5pm
Blackhawk Museum, Danville
$325 donation
Concours d'Elegance
Sunday, September 22, 2019
11am – 4pm
Hartz Avenue, Danville
FREE admission, donations encouraged
For gala tickets and more information, call 925.360.7275 or visit Danville-dElegance.org.
Related Events