Danville Fallfest
Sat. Oct 19, 2019

-

Sun. Oct 20, 2019

Free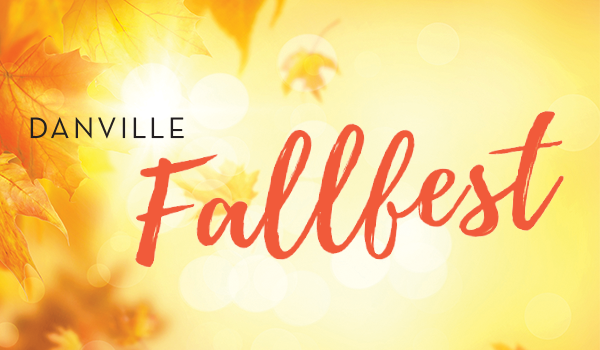 DANVILLE – Make it a memorable weekend of crafts and creativity in beautiful downtown Danville at the 2019 Danville Fallfest. Now in its 28th year, this popular event features 150 accomplished artists, exciting activities for kids, shopping, food, drink and more.
The annual Children's Costume Parade kicks off the festivities on Saturday at 10am as children of all ages dress up in their Halloween best and make their way down Hartz Avenue. The fun continues with free, safe trick-or-treating at merchants and vendors along the parade route.
The glass pumpkin patch, known as "The Festival of 1,000 Glass Pumpkins," will feature a stunning collection of hand-blown pumpkins and flowers in a wide range of shapes and colors, from palm-sized to glass pumpkins weighing several pounds!
Live music will fill the air when Brooks Lundy and John Archimede hit Hartz Avenue with high-energy performances, and KKIQ will be at the Veterans Hall spinning your favorite records. The students of Next Step Dance Academy will also be showcasing their talents during this two-day event. There have been rumors of a thrilling flash mob organized by the Danville Women's Club, but you'll have to wait to find out where and when!
Car fanatics and gearheads will want to head down East Prospect Avenue on Sunday to marvel at the classic car show. With a selection of the coolest cars and hot rods in attendance, this display will definitely impress. The Museum of the San Ramon Valley will host a children's train ride during both days.
All of these attractions are sure to work up an appetite, so take time to indulge in the offerings from the abundance of unique restaurants in downtown Danville. Quench your thirst with delicious microbrews and wines from local establishments such as Danville Brewery, R&B Cellars and the Boisset Wine Collection before getting back to the excitement of the Fallfest!
Danville Fallfest
Saturday & Sunday, Oct. 19 & 20, 2019
10am – 5pm
Downtown Danville
Admission is FREE
For more information visit DanvilleFallFest.com
Related Events