"Christmas in My Hometown" – a Vacaville Tradition
Sat. Nov 25, 2017
$14
Event Navigation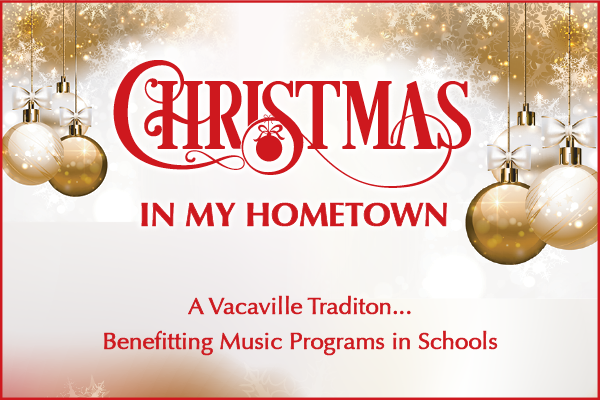 VACAVILLE – From its debut 12 years ago, Christmas in My Hometown has become a wonderful holiday tradition.
The variety show is fashioned after the holiday specials of TV's early days, where stars were joined by their families in a cozy front room setting. "We are trying to re-create what we remember of the old Andy Williams Christmas programs, that feeling of being invited into their home for a warm and cheerful holiday gathering" says Ron George, the shows creator.
This year, Ron will be presenting an afternoon and an evening performance. Joining him on stage will be: Emily Cribb, Zach and Aaron George, Brad and Debbie Andersohn, Jaina Benton, Madison Burton, Johnathan Burton Jr., Molly Rose Henricksen, The Christmas in My Home Town Drumline, Kim Bosler and the Bosler Family, Vaca High Choir directed by Ashley Parker, Alamo School Chorus directed by Johnathan Burton and the Cooper School Chorus (or as the kids like to call it, "Cooper Comet Chorus") directed by Kim Bosler.
The show and raffles help raise much needed money to keep the music programs in our schools in place for future generations. Tickets are $14 and are available online at vpat.net, by calling 707-469-4013 or at the box office at the Vacaville Performing Arts Theatre Tuesdays through Fridays from noon to 6pm.
"Christmas in My Hometown" – a Vacaville Tradition
Saturday, November 25th at 3pm and at 7pm.
For tickets or more information, visit vpat.net.
Related Events