2018 Fiesta Days in Vacaville
Mon. May 21, 2018

-

Mon. May 28, 2018
Event Navigation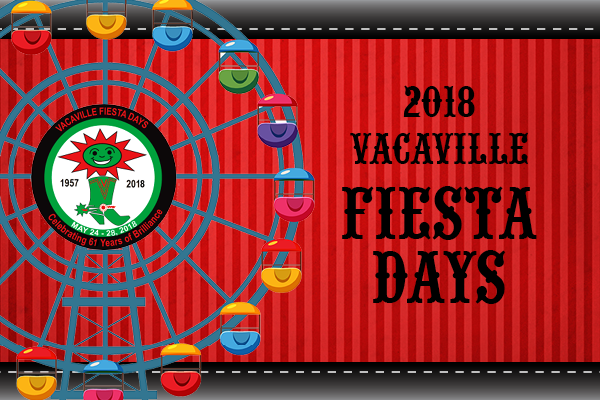 VACAVILLE – Fiesta Days is back and action-packed! Returning to Vacaville May 21 through May 28, 2018, Fiesta Days has been entertaining families with fun activities since 1957, and 2018 will not disappoint. Enjoy live music, a carnival, the jalapeño and onion eating contests, the Whiskerino contest, a car show, the diaper derby, the much-anticipated parade, an interactive melodrama, a pancake breakfast, the Family Fun Zone, decorated storefronts, and many more family activities.
The week kicks off on Monday, May 21 with a store window decorating contest, employee costume contest, opening ceremonies, and a BBQ.
Thursday, May 24 heats up with the Fiesta Days Golf Tournament, the opening of the carnival and live music by Black Rock Project. Friday, May 25, after a day at the carnival and the Family Fun Zone, put your dancin' shoes on and rock out to the music of Skynnyn Lynnyrd, at Creekwalk Plaza.
On Saturday, May 26, set your alarms and get up early for the 7am Pancake Breakfast at St. Paul's Methodist Church, at 101 West St. (info: 330-6552), then be sure to stake your claim for chair space on Merchant Street for the 10am parade (parade runs down Merchant Street from Mason Street to So. Orchard.) After the parade, the party continues at Andrews Park with more carnival fun, live entertainment and the Family Fun Zone. There will also be a Classic Car Show on School Street and East Main. Don't leave downtown just yet, The Jackson Stone Band will be on stage at 12:15pm, followed by the Fiesta Awards Ceremony at Creekwalk stage, and the Whiskerino contest. The Time Bandits will close out the evening from 6:15 until 9:00pm.
Sunday, May 27 is Hispanic Day! Catholic Mass will be held in the park at 11am followed by a variety of Hispanic bands playing at Andrews Park until 9pm.
Also on May 27, get those babies ready to race at the 9:30am Diaper Derby at the Georgie Duke Center! There will also be a dart tournament at St8 Shooters, 1072 E. Monte Vista Ave. (info: 453-7878), and the jalapeño and onion eating contests. The Gaslighters Melodrama "Time Wounds All Heels" will be performed at the Saturday Club at 3pm and again at 7:30pm (tickets available at vacavillegaslighters.com). The carnival and Family Fun Zone will also be open for all day fun.
On Memorial Day – Monday, May 28 – the carnival and family Fun Zone starts at noon in Andrews Park. There will be more live music at Creekwalk Plaza at 11:15 and 3pm. The Gaslighters will perform their melodrama at 1pm and at 4pm at the Saturday Club, and the weekend's festivities will close with more live music from 4:00-6:45pm.
For more information, visit fiestadays.org. Admission is FREE to the park, vendor and activity prices vary.
Fiesta Days 2018
May 21 through May 28, 2018, at various times and locations in and around Vacaville.
For more information, locations of all events, parade route, contest entry forms, and more, visit fiestadays.org.
Related Events