California's Tri-Valley: Blending Arts, Culture & History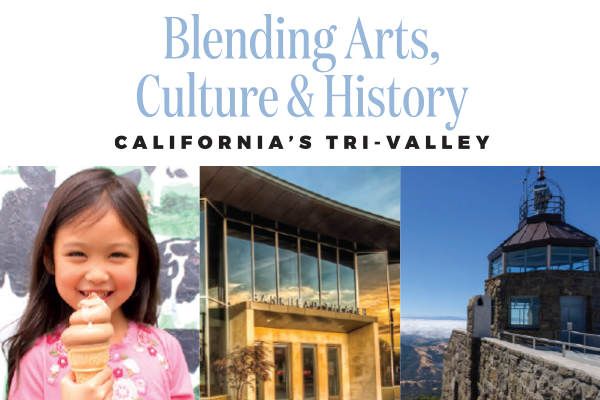 TRI-VALLEY, California – Home to one of California's oldest wine countries and located just 35 miles east of San Francisco, the Tri-Valley is a Northern California destination that unexpectedly blends arts, culture, and history. It's hard to miss Mount Diablo, rising over the Tri-Valley to 3,849 feet. Hikers, bikers or plain old drivers can explore the mountain on the trails and roads in Mount Diablo State Park. Each year on December 7th, the beacon on top of the Summit Visitor Center is lit to honor those who served and sacrificed their lives during World War II. Don't miss the view from the summit: On clear winter days, you can see not only the three valleys that come together to create the Tri-Valley but also the Sierras and sometimes even Half Dome in Yosemite!
The Bankhead Theater brings some 100 music, theater and comedy acts to Livermore each year. The lineup includes international dance troupes, Grammy award-winning singers, comedians and other stellar performers. The Bankhead Theater hosts a wealth of cultural acts, including dance company MOMIX.
Eugene O'Neill, the only American playwright to win the Nobel Prize, reached the peak of his powers at Danville's Tao House, which he built on 158 bucolic acres in 1937 and where he lived through 1944. Here, he wrote Long Day's Journey Into Night and The Iceman Cometh, among other masterworks. Combining elements of Asian and Spanish design, Tao House is now a museum where you can view O'Neill's desks, manuscripts and photos. In September, the O'Neill Festival presents plays in the barn.
Visitors to the area also have the option of tasting their way through the Tri-Valley via various foodie-centric trails. Hop on the Tri-Valley Caffeine Trail, a unique collection of cafes, coffee houses and tea rooms each with their own set of peps and perks. And for those with a sweet tooth, the Tri-Valley Ice Cream Trail features local bakeries and ice creameries, offering everything from sweet soft serves and nitrogen-frozen creations to ice cream sandwiches and old-fashioned sundaes.
This post is provided by Visit Tri-Valley. Download the free Visit Tri-Valley Inspiration Guide 2021 now at VisitTriValley.com.