Here's to Friends, Food & Scrumptious Spirits
These local finds are sure to get you in the holiday mood whether you're craving a delicious pizza, Thai food or a craft cocktail with friends.
Green River Brewing & Taproom
WINTERS – Driving to Winters is becoming such a treat! The Green River Brewing & Taproom is a new favorite. This brewery, bar, restaurant and full event venue has it all. Established in August 2017 by friends John Neil, Jerry Bell, Dave Legoullon and Todd Carlson, emerged a super fun, friendly atmosphere that will entice your taste buds and keep you coming back for more.
Beer drinkers will enjoy the area's first self-serve "Tap Wall" featuring 25 craft beers and ciders. This unique "pay by the ounce" system lets you try small tastings of everything before landing on your favorite. By the way, this feature is MY FAVORITE.
We pulled in on a Friday around lunchtime and the place was filled with people and laughter. Arthur took great care of us at the bar. He got us oriented with small cider tastings and discussed the Executive Chef's menu favorites, complete with seasonal, locally sourced items from secret family recipes. We started with the Markley Cove Artichoke Cheese Dip, made with marinated Artichoke Hearts Gratin with cream cheese and shaved Parmesan, with a freshly baked demi-baguette, served in a sizzling cast-iron skillet—our favorite go-to dish! Next, we ordered Arthur's favorite pizza, the Pleasant's Creek, prepared with whole milk mozzarella, creamy basil pesto, artichoke hearts, black olives, white onions, mushrooms, tomatoes and green onions topped with shaved Parmesan, making it light and delicious! A perfect pairing with my Moose Drool.
Take some time and make it a point to visit Green River Brewing & Taproom. This place is a hidden gem. Book a party, wedding or holiday event. Check upcoming concerts, play horseshoes, cornhole or volleyball when weather permits or just enjoy life out with friends.
4513 Putah Creek Rd. in Winters
Open Daily
GreenRiverTaproom.net | 530.441.2337
---
Rice Barn Thai Eatery & Wine Bar
VACAVILLE – This beautifully decorated Thai restaurant is the perfect location to slow the holiday hustle and bustle with friends and family.
Rice Barn Thai Eatery and Wine Bar offers an extensive menu of grandma's Thai classics using farm-fresh ingredients with new modern California twists. Pair your meal with famous regional wines, beer and/or soju/sake cocktails.
For starters, we ordered the Fresh Summer Rolls (mango, fried tofu, carrots, lettuce and rice pepper with a delicious peanut and sweet chili sauce). Spectacular! We also enjoyed the Tamarind Prawns, (fried prawns and fried onion with Tamarind Sauce), a Cucumber Salad and the Fried Pumpkin. Vegan and vegetarian options are available.
132 Browns Valley Pkwy. in Vacaville
Open Daily
GoRiceBarnGo.com | 707.999-5895
---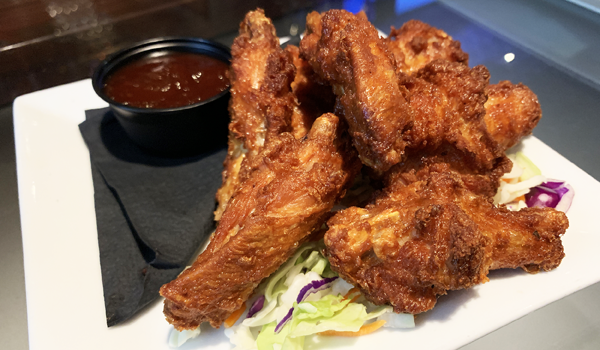 Rellik Tavern
BENICIA – This little tavern in Historic Benicia sits amongst the smalltown shops and galleries. Usually known for its full bar and live entertainment, this local joint has some pretty tasty bites to enjoy with your evening spirits.
Rellik Tavern is a 21 and older establishment.
We popped in for an early bite and ordered the Fish Tacos (3 street-size tacos, fried cod and house-made slaw with avocado sauce), the Battered Green Beans (lightly battered green beans, deep-fried and served with house-made Lemon Dill Aioli) and the Raven Wings (8 crispy chicken wings served with your choice of mild, honey, hot BBQ, original Rellik or Stupid Hot Sauce). All were delish with my Meyer's Lemon Drop vodka martini, rimmed with organic sugar.
726 1st Street, Benicia
Open Daily
707.746.1137 | TheRellikTavern.com
---
Brandy Hart writes "Tastes of Your Town," a monthly feature in the print edition of Your Town Monthly. This article was originally published in the December 2019 Solano and Yolo County print editions.